To avoid additional costs for graphical work/adjustment,
follow this guide when delivering your layout file.
1. Download the template for your product
In all branding products' descriptions, you will find a link to the template that fits that specific product. The link leads to a ZIP file, which typically contains templates for both Adobe Illustrator and Adobe InDesign ►
2. Your layout file must comply with the following:
1. Use only colours as chosen/mentioned for the specific product
2. All text must be outlined (guide)
3. Format: Print-ready PDF 300 DPI
4. No cutting marks



NOTE: Please also follow the 'design guideline' below for best results.
3. We prepare your layout file for production
Several areas of the layout file may be affected by cropping, overlap and mandatory text. This is shown on the template. You cannot place your important elements such as logos, texts and illustrations here. However, you must let your background design continue out into these areas, so that cropping and overlaps will look as nice as possible. When we receive your layout file, we will verify that it meets the requirements. We will then add mandatory elements such as informative labelling. Barcode and possible deposit labels will always feature white backgrounds.
4. You must approve the production file
You will always receive the completed production file with our mandatory elements for approval by email. You must approve our production file before the order is initiated.
The production times stated for a specific product are applicable from the day of your production file approval.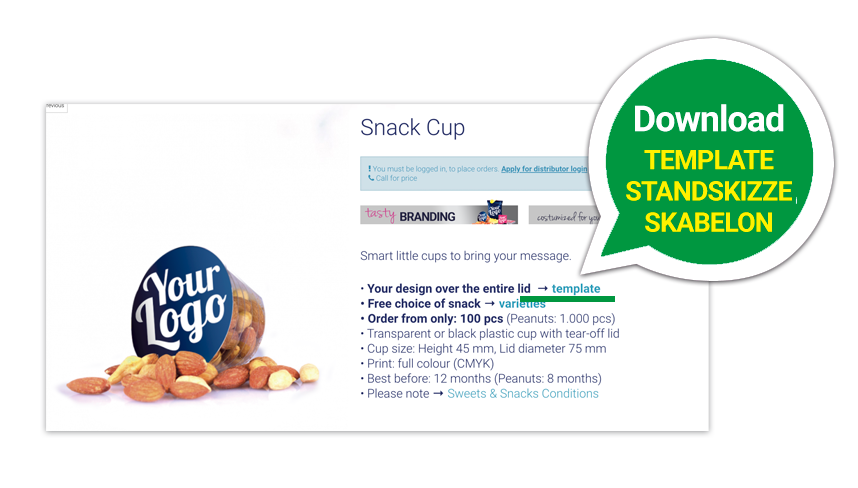 Design guideline

Printing on metallic or transparent surfaces
- adding a white layer under your layout
A white layer, is a white 'primer/undercoat' used on all or parts of your layout. When your layout is printed on metallic or transparent surfaces, your colours might seem slightly 'washed out' (some of the colour/pigment will be absorbed by the packaging). Adding a white layer will make your colours stand out more.
If you choose to add a white layer in your layout, you will be charged for 1 extra pantone colour.


Colour peeling when sealing the packaging
When choosing D'lux wrapping in white foil, colour peeling may occur at the ends (where the product is cut/sealed with heat during production). We therefore recommend to leave 5mm at each end without colour print. This way, you get a beautiful packaging with no colour peeling at the ends.